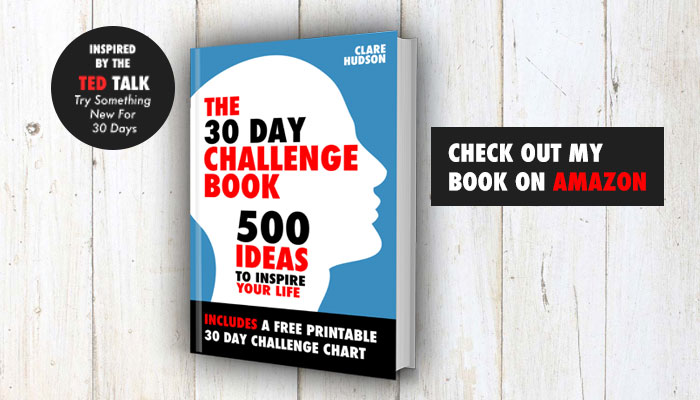 ***Get your copy of The 30 Day Challenge Book: 500 Ideas to Inspire Your Life here***
After being inspired by the popular TED talk by Matt Cutts, Try something new for 30 days, I ended up trying quite a lot of 30 day challenges over the last three years and writing about them on Thought Brick.
Last year I set myself the 30 day challenge of writing the first draft of a nonfiction book — about 30 day challenges! One year later, The 30 Day Challenge Book: 500 Ideas to Inspire Your Life
is ready to buy on Amazon.
Why 30 day challenges?
What I love about 30 day challenges is that you don't always need to make drastic life changes, go on costly worldwide adventures or wait until the time is 'right'. Big changes can come from small actions.
The point of this book isn't to tell you how to live or give you ideas only I like — it's to get you to start and do something today that will bring more enjoyment and variety to your life.
Some of these 30 day challenges you'll love and some you may find strange, but others could transform your life in ways that might be hard to imagine without starting. Most of these challenges can be done anywhere — some for as little as five minutes a day, without spending lots of money or buying new equipment. The idea is to use the resources you already have, and pick the ideas that speak to your heart.
It's my hope that you will find something in this book that will make you feel excited. And through the act of doing and playing by your own rules, I hope you get the chance to find enthusiasm for everyday life, reignite some old passions and develop a love for trying new things.
For example, my 30 day art challenge inspired me to set up an Etsy shop called Yoga Spirit Art, selling yoga inspired art prints.
What you will get in this book
There are 500 30 day challenges in this book which have been divided into the categories below. So there should be something for everyone, regardless of who you are, where you are, or what stage of life you're at.
Health, food and fitness 30 day challenges

Self improvement, inner life and meditation 30 day challenges

Recreation, art and creative 30 day challenges

Home life, Professional life and finance 30 day challenges

Intellectual and educational 30 day challenges

Social, relationships and kindness 30 day challenges
At the end of the book is a bonus section consisting of an A-Z of all 500 30 day challenges and an additional question challenge featuring 30 thought provoking questions for 30 days.
Your free 30 day challenge planner chart
To accompany you with your 30 day challenges, I've designed a free 30 day challenge planner chart, to help you stay motivated, record your thoughts, and track results. It comes with this book as a downloadable PDF which you can print out and use as many times as you like.
30 day challenges have made a big difference to my life and I hope they can help to inspire your life too.
P.S. If you're looking for some New Year's resolution ideas, how about a 30 day challenge?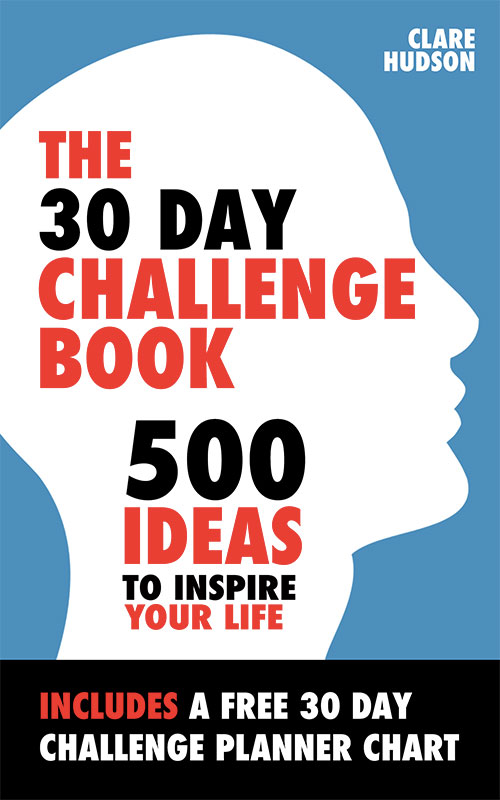 ***Buy your kindle or paperback copy of  The 30 Day Challenge Book: 500 Ideas to Inspire Your Life here***