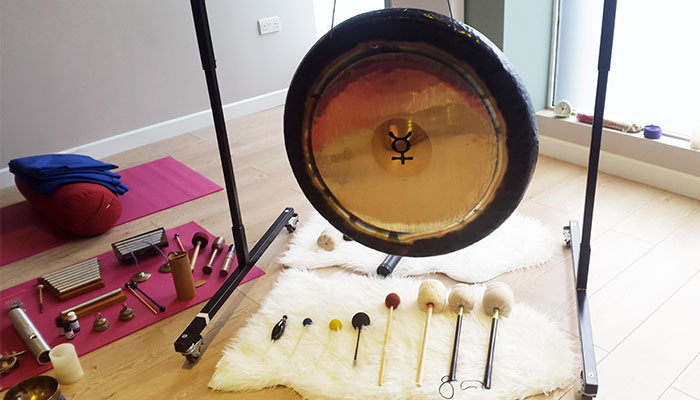 If you'd ask me where my mind peacefully drifted off to on Sunday evening as I experienced my first gong bath at YogiYoga in Wandsworth, I wouldn't be able to to tell you. But I do know that I went into a deep state of relaxation, and left feeling light, grounded and refreshed as I walked home.
What is a gong bath?
If you're unfamiliar with what a gong bath is, the session I experienced involved lying down as I absorbed and fully immersed myself in the sounds of a live gong and other percussion instruments. It's a form of sound healing, that takes the practitioner into a deep state of relaxation, often changing a person's brainwaves to the theta state.
Gong baths help to induce theta brain waves
Theta brainwaves are typically associated with the state just before you're about to drift off to sleep or wake up first thing in the morning. Typically in day to day life when we're at work or solving problems, our brainwaves are in beta.
If we then start to relax — listening to peaceful music, going for a walk in nature or doing some light meditation, our brainwaves are likely to go into the alpha state. In deeper meditation, brainwaves might then change to theta or even gamma (rare).
I don't want to delve too much into the technicalities of sound healing as this isn't my area of expertise. However, I am going to share my thoughts and experiences of the session with you, and hopefully inspire you to try out a gong bath too.
If you are interested in finding out more about the specifics of what a gong bath is, you can find out everything you need to know on Patricia Carlota's website SonicSoul. Patricia led the wonderful sound healing gong workshop on Sunday, and runs private and group gong sessions in London and Brighton.
My gong bath experience
As I relaxed under the comfort of a blanket, bolster and eye pillow, and allowed myself to be soothed by the introductory guided meditation, the deep earthy sounds of the gong began. I observed curiously as my mind started to wonder to the only other sound healing session I had experienced with singing bowls.
We were less than 30 seconds in and already my mind wanted to compare and find similarities to something I'd already experienced. I remember thinking, 'I'm not feeling it in the same way. Should I be experiencing it like this?'
The thought surprised me because whenever I facilitate or write about meditation techniques, I often refer to what Zen Buddhists call the 'beginner's mindset' which emphasises how important it is to let go of any preconceptions and become the 'beginner' again.
Maybe it's natural for our minds to compare situations to what we're used to or what we might be expecting, or maybe it's the ego's way of asserting itself when something is unknown.
However, had I let myself continue to compare, I would have missed out on one of the most blissfully relaxing meditation sessions I've had. Rather than the sensation of feeling weightless and floating on sound, this session gave me a deep feeling of relaxation and groundedness instead — as if I was being given a big all encompassing hug by the sound, which was exactly what I needed in that moment.
This brings me back to something Patricia said at the start of the workshop — that everyone experiences the gong differently. It's also a reminder that each person might respond differently to each gong session depending on what they need most in that moment, we just need to be open to it. 
Finally, thank you to Patricia for running such a wonderful workshop and Erika from YogiYoga for organising it. If you haven't experienced sound healing before I urge you to find out more on SonicSoul and if you live in the Wandsworth area, keep your eyes peeled for more gong bath workshops at YogiYoga.
Namaste.