What better way to start my first post of 2018 — writing about my friends from the talented Tell Tale Tusk, and their album launch Through the Morning at Balabam back in December.
It was such a magical evening of not just their music, but guest musicians*, storytelling combined with music from Embers Collective, projections, animations by Ana Caro, and dance by Lauren Taylor too — all performed within a beautiful set of flying books, cut out trees and climbing leaves — and a room full of lovely people.
Before Tell Tale Tusk's album launch, I'd been to see the Basquiat exhibition earlier that day and I remember thinking, This guy is into everything. He wasn't just an artist, he was a musician, poet, DJ, storyteller… with so many influences that came from everywhere, from politics and dance to Darwin, human anatomy and hip hop.
My friend Fiona from Tell Tale Tusk once said — that when you're an artist of any kind you have to be interested in other things too to make good music or art. This is what makes Tell Tale Tusk truly original; they really do connect so many far reaching dots and turn it into beautiful unique music that makes you smile, cry, dance, think, laugh and feel like you're in an enchanted forest — all in one evening.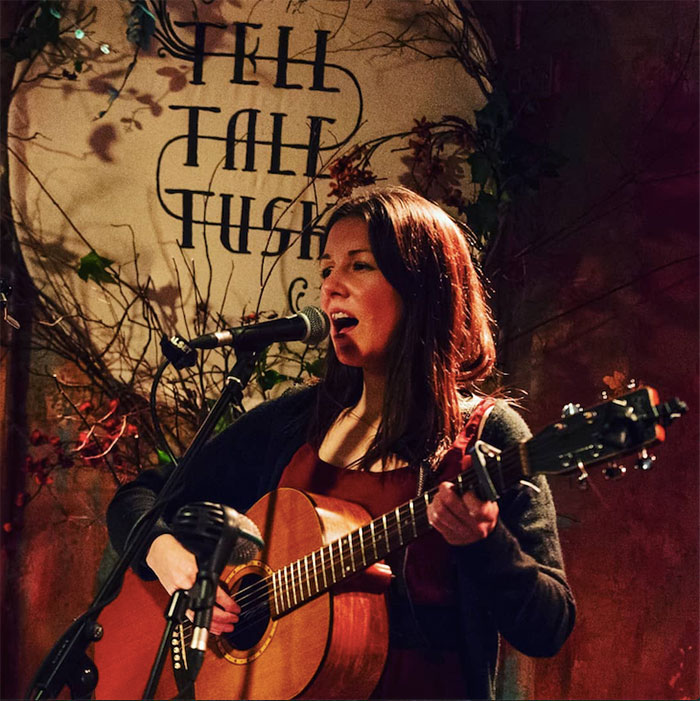 We can only connect the dots that we collect, which makes everything you write about you. … Your connections are the thread that you weave into the cloth that becomes the story that only you can tell. — Amanda Palmer | Brain Pickings
My favorite part of the album launch? I want to say hearing The Maid of Culmore, which always makes me cry in a good way — but really it was the whole evening, hearing so many new songs and harmonies which you can listen to below, and being in good company.
Enjoy this beautiful music and Happy new Year.
Through the Morning by Tell Tale Tusk
Album artwork by Jessica St James
To find out more about Tell Tale Tusk and to listen to more of their music, visit their website Tell Tale Tusk for more "harmony fuelled folk fables".
Photos from Tell Tale Tusk
*Guest musicians: Cellist Maya in the songs Lady Luna, Sirens, and she's like the Swallow | Surprise drummer Guillano Osella in Georgie