The other day I had the pleasure of going to a John Lewis wellbeing evening at the Oxo tower for London bloggers, where I got to do pilates, make a delicious smoothie, and learn about nutrition from one of London's most sought after nutrition coaches.
My evening in photos 
How to make the red ambulance recovery shake
Teaming up with Christine from Yogaberry, we made the Red Ambulance recovery shake with the addition of pineapple. In case you fancy making it too, here's what went into it.
Ingredients list
Coconut milk
Coconut water (or just plain water)
Banana
Whey protein
Frozen berries
Cos or romaine lettuce leaves
Manuka honey
Turmeric (it's a powerful anti-inflammatory and despite putting two teaspoons in, thankfully it didn't taste at all like curry!)
Pineapple (we added this as an extra)
Smoothies vs juices
Here's some info from the John Lewis wellbeing event handout. You can also view the various juicers and blenders on the John Lewis website here.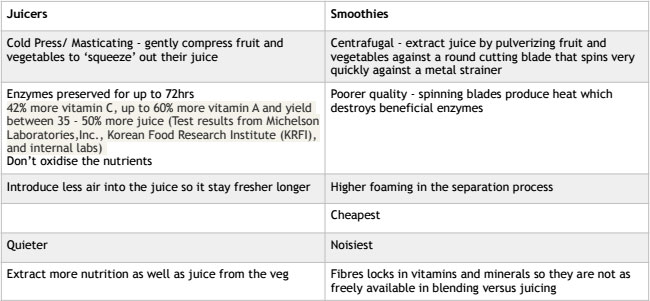 Nutritious smoothie making tips and facts
Admittedly, I didn't scribble everything down during the nutrition talk, but I did pick up a few tips that you might also find useful, and I now know how to make much healthier smoothies.
Drink smoothies within 24 hours as the nutrients decrease after this period and methanol levels start to rise.
When you drink your fruit and veg, the body absorbs up to four times more nutrients and digests them up to twenty times faster.
For protein, add whey protein powder to your smoothies — great if you're vegetarian or vegan.
Make your smoothies with two thirds veg to one third fruit to keep sugar levels down.
Include essential fatty acids in your diet and smoothies to help improve the levels of growth hormone while you're asleep. Foods such as avocados and coconut milk are really high in essential fatty acids.
Enjoy and happy smoothie making 🙂 x