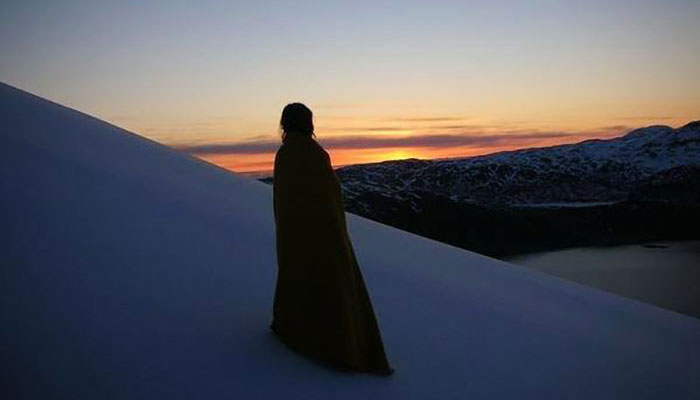 A theme that's interested me for a long time (probably ever since I experienced a ghost as a child) is the study of spiritual experiences and awakenings. 
My intention is to study this theme through a mix of experiential and interdisciplinary learning and see where it takes me. I have an initial reading list of books and papers which are all loosely related to the same theme but written by people from a vast range of subject areas from art to science and everything in between.
I'm also drawing from my own (and observed) experiences to help shape the direction of what I study. These experiences include, but are not limited to: meditation, living on the arctic circle in darkness and light for half a year, art, sensory deprivation tanks, lucid dreaming, and yoga.
I'm not naive enough to think that I'll be able to cover everything or even that I will find out anything of use or relevance to share — the idea is to study this subject quite broadly for a year, enjoy the process of learning, and continue with more of a niche theme. I'm looking for more of an understanding — for both personal reasons, and also to share in case anyone else is interested.  I'm more interested in  how these experiences or awakenings can be brought into everyday life, as opposed to finding solid answers or validating their existence through science.
With each book, podcast, and paper I engage with, as well as anything practical I do, I'll be writing articles and essays, as well as contacting each author with a question related to their book. The questions I ask and the answers I receive from these people, will help to shape the process of what I learn, write and do next.
For example, the first book I read for this project was written by a neuroscientist, who kindly responded to my question related to his book, in a way that was completely unexpected. By gathering answers from people in such far ranging fields but who are all interested in the same theme, I hope to become more balanced in how I think.
Not getting too caught up in 'experiences'
In yoga, there's a term called Siddhis which can be translated to mean supernatural or mystical abilities that might occur if you're interested in practices that involve inward reflection. Just to be clear, I'm not interested in focusing on siddhis — partly because in yoga, they're often seen as things that we shouldn't get too caught up in analysing or focusing on.
I'm not sure yet if I have the language so I'll stick with using the word 'experience'. I suppose you could describe what I want to study as processes of transformation — inside or outside of religion — that change the way someone views themselves and the world, regardless of whether what they now know has been validated by science. I'm interested in how people respond to these experiences in everyday life afterwards.
Going further into this, I'm particularly interested in experiences or so called awakenings that occur within a group context, such as shared meditation experiences as opposed to individual isolated spiritual experiences, and what effects this can have on each individual but also the world and people around them.
Choosing a theme rather than a subject or one main job
Learning for the joy of learning and experiencing new things are interests of mine, and it's how I now make a portion of my income. I write about niche courses that I enjoy doing such as the Wim Hof Method (a mix of meditation, physical exercise, and cold therapy) and then I make a commission when people buy the course after reading what I've written. I also sell yoga inspired art prints and two self published ebooks. 
As a result I've been able to self fund my second yoga teacher training in India for three months, as well as other CPD courses, and if I want to in the future, a master's too. I don't believe education should get people into debt that can't be paid off for decades. If education can't be free, and money isn't readily available, then I'd like to think there are other ways around self funding your education such as making a passive income from the internet based on a niche area or the intersection of  areas you're interested in. I strongly believe in finding the balance between thinking entrepreneurially and academically. In a time when education is now pretty pricey, I think this is more important than ever.
After ending full time employment a few years ago and becoming entirely self employed, I hope to bring the same independently led mindset to this project. It will also be a personal experiment and experience into the nature of learning, how knowledge is acquired, and the education system itself. 
I'm partly writing this initial article to hold myself accountable for the project, but to also share what I'm doing. Let the learning process begin.