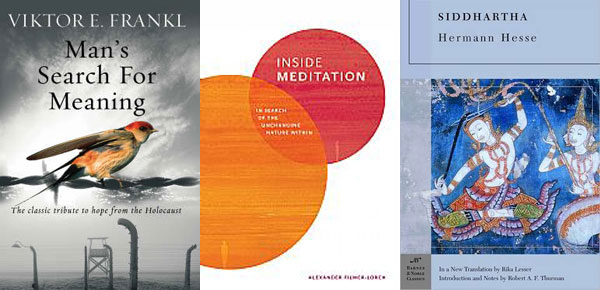 This post contains affiliate links. This means if you click the links in this article and buy something from Amazon, I will make a small commission, which will go towards doing further yoga teacher trainings.
Over the last decade I've read a lot of self improvement books about everything from productivity to meditation and mindfulness. In no particular order of greatness, here's my list of some of the best self improvement books out there.
Viktor E Frankl, a psychiatrist, psychologist and the author of Man's Search for Meaning spent several years trapped inside a concentration camp in WW2. Whilst inside, Frankl discovered that everything can be taken from a person except the freedom to choose an attitude or mindset. This has to be one of the most powerful, moving and inspirational books I've ever read.
Don't let the title deceive you — this is one of the most influential self improvement books of the last 100 years. Covering everything from productivity to integrity and dealing with change, the 7 Habits of Highly Effective People is refreshing, non preachy and life changing.
Far from a self help manual, How to be Free is funny, inspiring and refreshingly honest. There's no preaching here — just Tom Hodgkinson chatting about everything from anxiety to money and happiness. If you've ever thought, there must be a better, more freer, happier way of living — read this — it'll give you inspiration.
Whether you'd like to work for four hours a week or not, this book taught me loads about productivity and efficiency. If you want to get out of the 9-5 routine, work and live anywhere in the world and have time to see it, this book will give you a starting point.
I put off reading this book for years because the title seemed a bit shallow but I have to say, it's one of the most inspiring self improvement books I've read. It totally transformed my outlook on money. Although money can't bring happiness as we all know, having it helps in the world we live in. I learned to appreciate any money I had after reading this book and as a result ended up getting more.
Man's Search for Meaning says we can choose our attitude in any given situation. Feel the Fear and Do it Anyway will take you through different fears from public speaking to ageing, and suggest practical exercises and solutions to help you conquer your fears once and for all. The success of the book speaks for itself — it's become an international best seller.
This is the ultimate job/career/life seekers guide to finding out what you'd like to do in life and how to go about accomplishing it.

Whether you're new to Zen or not, this book is for anyone with an interest. The title is more about adopting a 'beginner's mindset'  when you meditate rather than the book being purely for beginners.
Inspiring and beautifully written, Zen and the Art of Happiness teaches us that your state of mind and your happiness is always a choice. Unlike, lots of positive thinking books out there, there's a refreshing honesty to this one that you can't help but listen to.
In a world where many of us are in a constant state of striving, Eckhart Tolle takes us back a step and helps us to realise that everything we need is rooted in the 'Now'. The book is written in a question and answer format and offers clear and easy to understand information on everything from the ego to enlightenment and mindfulness.
This has to be the best book I've read so far on meditation. Rather than preaching about one specific method, Inside Meditation takes an objective view and covers everything from practical meditation exercises and breathing technique, to the science behind meditation and why it's beneficial.
Spiritual self improvement books (fiction)
Magical, uplifting and beautifully inspiring, the popularity of the Alchemist speaks for itself. It's a story about following your dreams, listening to your intuition and following your own path through life.
Siddhartha is the story of a man on a spiritual journey around the time of the Buddha. A beautifully written and inspiring classic, this is a must for anyone interested in spirituality, meditation and enlightenment.
Finally, if you feel I've missed any important self improvement books off the list, please feel free to add some more to the list.
***December 2016 update***
I recently wrote The 30 Day Challenge Book: 500 Ideas to Inspire Your Life which was inspired by the TED talk Try Something New for 30 Days