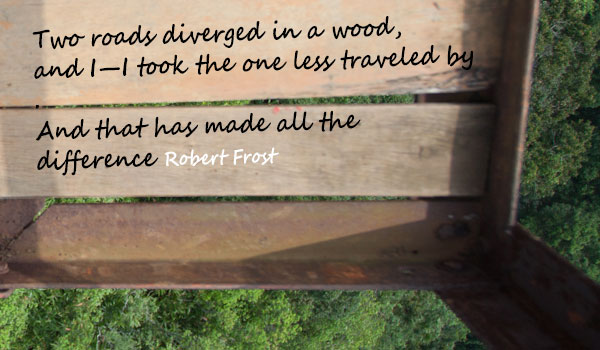 Sometimes life can take many unexpected twists and turns, you can be sailing along quite easily, blissfully unaware that stress and routine are eating away at your inner self without you even realizing it.
The mind and the soul are tough, but also actually much more sensitive than you may realise.  Modern society can whisk us up in its tornado putting us on paths that we don't necessarily choose, but paths we think we should take.
Listen to yourself
Sometimes the body will tell you it's worn out, or that its on the wrong road, this can come out in stress, dissatisfaction or possibly even sadness and an unfulfilling existence. In my case it was anxiety. I'd spent almost two years In a career I thought was what I wanted, I underwent a lot of stress in my jobs and also a lot of boredom, two emotions which are common, but clearly an indication of not being in the right career.
Unfortunately for me I carried on ignoring these emotions and October last year my mind had had enough. I started to have panic attacks for no reasons and my thoughts became irrational, so much so that I could no longer work. My mind had decided that enough was enough and forced me to leave my job and focus on nothing but getting it back in a good healthy state, so my journey began.
Don't worry, problem solve instead
Below is a short excerpt from a Robert Frost poem, which sums up this argument perfectly:
"Two roads diverged in a wood, and I—I took the one less traveled by. And that has made all the difference." 
In relation to this excerpt, I am now on the road less travelled by. I have taken the leap into the unknown. Step back, observe and think what YOU want and begin small steps to making it happen.
Read quotes from The Dalai Lama
We all love gossip, and some seem to relish in other peoples misfortune as it gives temporary relief from our own problems. Others peoples problems only cause stress and negativity so distance yourself. Adopt compassion and positivity for others who aren't in good places, as you reap what you sow; spread love and good energy and positive advice, as this is what you receive back. Read quotes from the Dalai Lama until they embed in your brain.
Practise meditation, & Hypnosis
Meditation is a long-term fix for the injured mind; it allows you to enter a deep relaxation, which frees you from your worries, and yourself.  Before you go to bed at night ensure your sleep will be highly beneficial to you, find a hypnosis CD or recording specific to your problem and it will not only help you sleep but get to work on your subconscious too.
YOU are all that matters
Concentrate on you and never compare yourself to others, as this has no benefit to your mental wellbeing; we are all different and YOU are totally unique.
Written by Freelance Writer and Rock Journalist, Betsy Green
If you found this article useful or enjoyed reading it please share it and let us know your thoughts.