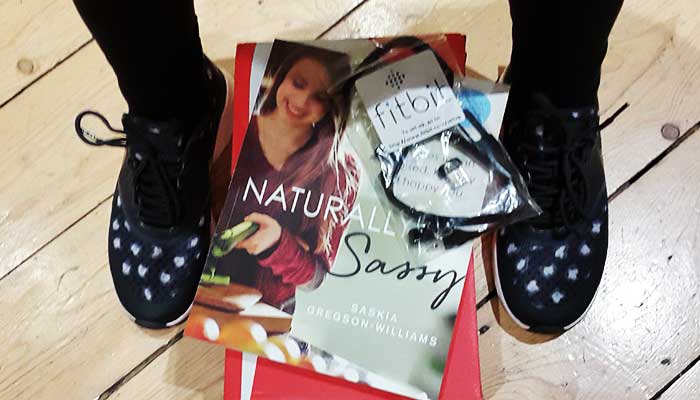 A few weeks ago, the company Regus — who provide office spaces for businesses — challenged seven bloggers, including myself, to take part in a campaign called the Regus Productivity Challenge.
Over one working week, I completed five different productivity challenges that were designed to make me feel less blue about life and more proactive and positive throughout the working week.
To help me get started I was sent some Nike trainers for running, £30 for healthy lunches, a cookbook  by Saskia Gregson-Williams  and a FitBit.
My five productivity challenges were as follows:
1. Optimising sleep
I went to bed at 10pm (ish) most nights, woke up at 6am and used my FitBit to record my sleeping habits
2. Productive lunch breaks
This included exercise, meditation…anything productive — so not rushing my lunchbreak whilst sat at my computer.
3. Using social media productively for 30 minutes a day
This basically meant no stalking people you barely know, so I spent 30 minutes sharing (hopefully) useful articles, uploading pics of my lunches to Instagram and generally, using social media productively.
4. Fitness lunch hour
This involved going for lunch time runs in my local park.
5. Eating healthy lunches
Using my Naturally Sassy cookbook, I made healthy gluten, meat and dairy free lunches for myself all week.
Initial thoughts
This is what I said about my productivity levels prior to my Regus productivity challenge.
I'm pretty self disciplined and driven which is good for my productivity in general. However, I am also prone to getting distracted easily and excited by lots of different things which can end up making me less focused, and as a result, less productive as my energy becomes scattered.
I'm really looking forward to doing the productivity challenges and hope they can give me more clarity, and help me to prioritise my time better.
How did I feel after and during my week of productivity?
Favourite part of the week?
Apart from eating lots of delicious home cooked lunches all week, on Monday I paid a visit to Inner Space in Covent Garden after going on one of my lunch time runs. I didn't plan to do this, but it fitted in really nicely and added a bit of spontaneity to what could have been a really planned out day.
If you haven't heard of it, Inner Space is this beautiful haven of peace in central London where you go to learn meditation and mindfulness. They've also got a small room with red lighting where you can go to just sit and meditate on your lunch break.
Least favourite part of the week?
Not looking at my phone. As well as using social media productively for 30 minutes a day I also set myself the task of using my phone less. Because I was posting my meals up on Instagram (something I don't usually do), I sometimes caught myself sneakily checking my likes more often than I should have been.
How was the exercise?
Alongside yoga, I went for lunchtime runs in my local park which was nice. Sometimes when you live in London — especially in the winter — it's possible to go for quite a while without really connecting to nature. Running combined with eating the healthy lunches afterwards really played a big part in boosting my productivity and energy levels in the afternoon which was great. On some of the days, I also set myself targets to complete 10,000 steps or more, which is the recommended amount. You can see from the FitBit screenshot that 14th December was a productive step walking day for me!
 What did I eat for lunch?
Firstly, I was really impressed by how far £30 stretched when I bought all my ingredients for my lunches. A lot of the meals I cooked could then be adapted and eaten for dinner too which was an added bonus. 
Here are some of the lunches I made, plus a healthy smoothie drink
Coconut rice and rocket with mango and avocado salsa

Sweet potato and spinach dhal with gluten free handmade naan bread
Spiced carrot, coriander and chickpea fritters
Black bean, lentil and veg curry with rice
blackberry, blueberry and raspberry smoothie
Usually for lunch, I'll feel a bit heavy afterwards, but I was really impressed with all of these meals. I don't know if it was because I was eating gluten free or not, but I didn't have that heaviness feeling which was brilliant. Eating these foods at lunch also made me realise how heavily I can rely on shop bought sandwiches if I'm out of the house for the majority of the day.
How was the FitBit?
My FitBit was used mainly to track my steps and record my sleep patterns, but I also used it for the first few days to record my calorie and water intake, which was also really useful. I ditched the calorie counting after a few days as this wasn't really part of the productivity challenges and I wasn't trying to lose weight, but it was interesting to see exactly what I was putting into my body.
How was my sleep throughout the week?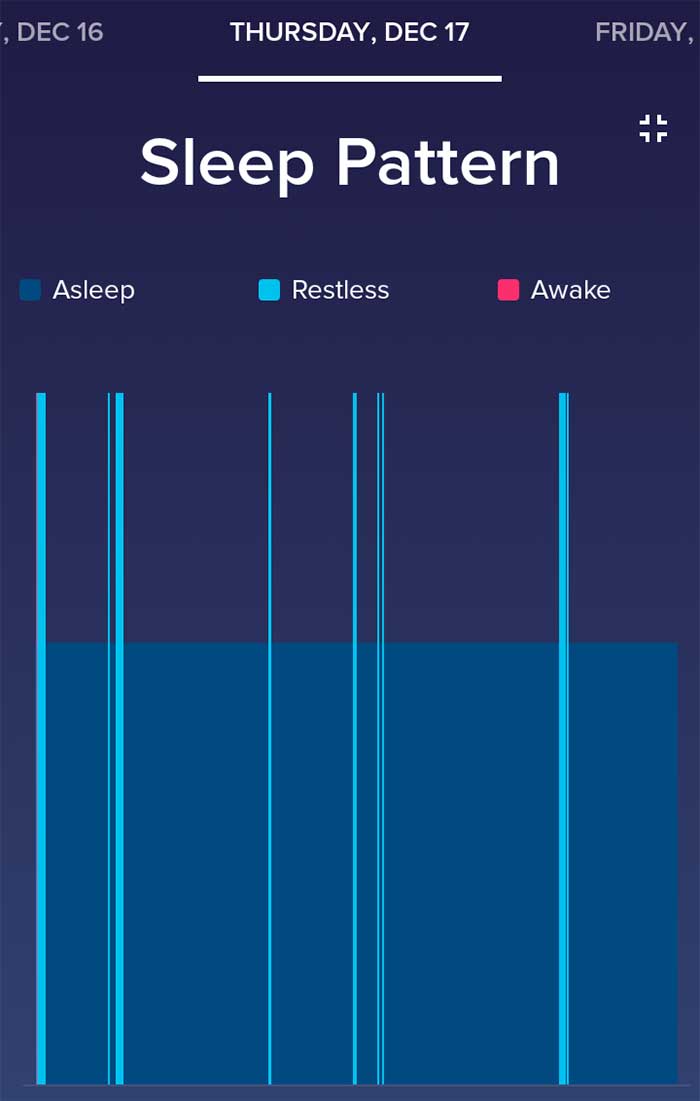 I started wearing my FitBit on Sunday the 13th Dec after going to bed at around 11:30. My sleep report showed how many times I was restless, awake, asleep etc. It was comforting to see that as the week progressed and I got into more of a routine, my sleep also improved. So, not as many red lines on my FitBit sleep graphs, as you can see in the screenshot opposite.
How did I use social media productively?
I managed this part quite well. I was working on something I was really enjoying though, so drifting aimlessly on social media wasn't particularly appealing. If I'd had more mundane daily tasks, this would probably have been much more difficult.
Will I carry on with the productivity?
It's coming up to Christmas, so I probably won't be waking up at 6am every morning, but this is something I really would like to continue doing — even if it's just a few days a week. I wouldn't say I'm necessarily any more of a morning person than most people — but I do think it's easier to get things done, when you wake up early. 
Making more of an effort with my lunches is something else I'll carry on with, plus the ritual of cooking and planning out meals is really therapeutic.
As for the running, I always love how I feel after a jog. This is something I'd like to continue doing alongside my regular yoga practice. However, I'll need to be more self disciplined when it comes to running, as I've never been a natural jogger. It was good to challenge myself though and work different muscles.
Final thoughts
These productivity challenges came at a good time, as I'd put aside the week starting from 14th December to focus on Thought Brick, which meant working from home on my laptop. I also had plans to start writing an Ebook this week, which I am pleased to say is off to a good start thanks to doing the Regus productivity challenges.
Going to bed at 10pm was hard in places, but it paid off. Meditating when it's still dark outside and no one else is awake is one of the best ways to start a day. By 8am I'd already done loads of stuff, which made me feel like I'd accomplished a lot more each day.
In general, along with scattering my energy over too many things, one of my other weaknesses in life is that I can sometimes get a bit impatient if something breaks, stops working and I don't know how to instantly solve the problem. I had a few minor hiccups during my week of productivity. For example, at one point I was unable to access an important file on my laptop.
Usually, this would have really frustrated me, but because my focus of the week was 'productivity', I just let it go. I did what I could in that moment, and then moved on.
This was probably one of the most important parts of the week actually. I think often in life, we can set out with good intentions and plans to do things in a certain way. But, inevitably, life sometimes has other ideas and forces you to alter your schedule, change your plans…
It's how effectively we respond to the things we can't control, that really shows how productive a person is.
Allowing myself one week where I really focused on being productive was really useful because it acted almost as a productivity meditation — helping me to change my attitude — to get less frustrated at minor hiccups and go with the flow more.
Overall, I'd say my week of productivity was a success and I hope to continue being productive while I finish my Ebook. Thank you Regus for the opportunity.