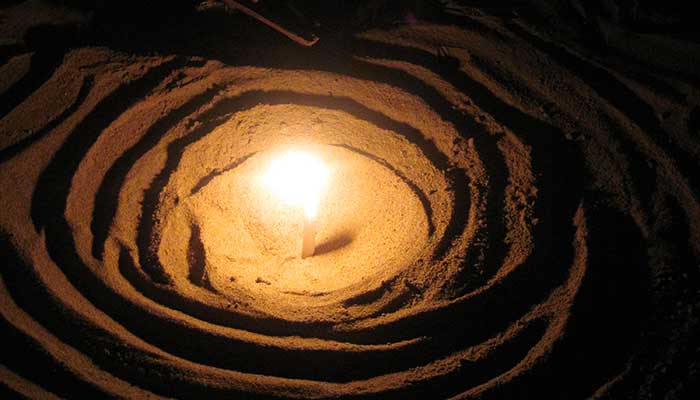 Tummo, meaning inner fire is a Tibetan Buddhist meditation practice that allows the practitioner to enter into a deep state of meditation. If you're unfamiliar with Tummo, think Wim Hof (the iceman) who is able to control his body temperature using meditation, physical exercises and cold therapy. Side effects to Tummo may include being able to make significant changes to body temperature, but this is not supposed to be the purpose of Tummo.
Please note that Tummo and the Wim Hof Method are different practices eventhough they might on the surface appear similar.
In this post, I've included a mix of videos, books and information that I've come across about Tummo. However, like with any meditation technique, please be objective when reading. The material here is simply a collection of information that already exists in the public domain. This article isn't designed to be a substitute for a Tummo teacher.
*November 2015 edit*
When I first started looking into Tummo meditation in 2011, I read about the experiments people had conducted with this meditation technique, and how practitioners were able to control their body temperature and go into deep states of meditation. Naturally, this fascinated me.
Tummo meditation entered mainstream western culture in the form of these experiments, which resulted in a lot of people, including myself, wanting to practise. However, at present, there seems to be mixed views about how to practise, whether complete beginners should be practising at all, and whether or not it's OK to reveal the techniques online or in a book.
The more I look into it, there seems to be more to this practice than I initially thought. For this reason, I'm going to wait until I can find a teacher who can teach me firsthand. I can intellectualise all I like, but like with all meditation, I believe you have to experience it properly first before you can understand it.
Originally, this article was about sharing information that already existed in the public domain, about a subject that deeply interests me — meditation. I've still included videos below and links to some of the Tummo experiments. However, I feel it's equally important to invite people to think about why they want to practise Tummo in the first place, is it safe to practise without a teacher and if not why?
I hate to make broad generalisations, but many of us in the West have been brought up to question things. On the one hand, this can make us overly intellectualise subjects such as meditation which I feel can never be fully understood from knowledge alone. As with all information, treat it with 'pending confirmation' as one of my philosophy teachers in India used to say. 
***
Tummo video
This video gives you an overview of the science behind Tummo and also introduces you to Dr Herbert Benson's work with Tummo.
Tummo and scientific investigations
Here are a few Tummo experiments I found interesting that have been conducted over the last few decades.
1. In 1982 Benson and colleagues studied the physiological effects of practising Tummo by conducting an experiment with three Indo-Tibetan Yogis in India (Himalayas). They found that the Yogis were able to increase the temperature in their fingers and toes by a massive 8.3 degrees.
2. Find out more about this 2012 Tummo experiment that took place in Normandy, France with Tibetan Monks.
You may also be interested in the website Meditation Research. Dr Peter Malinowski wrote an article on the science behind Tummo back in 2103 called Advanced Tibetan Buddhist meditation practice raises body temperature.
Additional information
Whilst looking into Tummo, I came across a blog called The Tummo Experiment which involved a group of people who were new to Tummo but interested to experience firsthand what it had to offer. The blog is their fascinating journey of what happened, what they discovered and their own thoughts on Tummo.
In addition to this, I would also recommend reading The Bliss of Inner Fire: Heart Practice of the six Yogas of Naropa