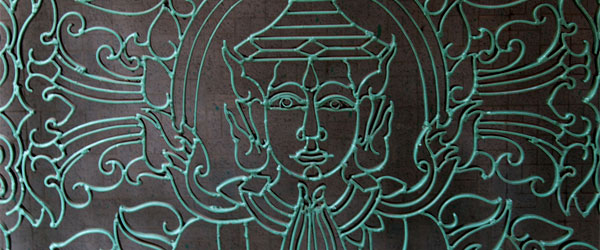 From Zen Buddhism to Open Heart Meditation, there are hundreds of different ways to learn how to meditate, but don't let this put you off. There are no rules as such – only guides which may be useful to some people and not to others. I therefore think it's important to approach meditation intuitively and with an open but inquisitive mind.
Before you start meditating
Before you begin, work out why you would like to learn how to meditate. Are you curious? Do you want to connect with something greater than yourself? Do you want to feel more at peace with yourself and/ or your surroundings? Identifying why you want to meditate will help you to find the right practice for you.
If, for example, you would like to meditate to feel more at peace with yourself, try starting with a few classes. At first, you might find it more useful to meditate with a group – unless people are fidgeting lots, it might be easier to relax as there will be few background distractions.
Where to meditate
When you start to meditate it's important to find somewhere quiet where you won't be distracted. I also think it helps when you're in an environment that makes you feel comfortable. Even though you'll be meditating with your eyes closed, meditating in a cluttered, dirty room probably won't help you.
You could try going to a few meditation classes, but don't walk in blindly. It's important that you feel completely comfortable and at ease before you begin. One class I went to involved sitting on chairs in a circle in a rather soulless room. I just couldn't relax – doors kept screeching in the distance and the atmosphere was a bit bleak.
At the other end of the scale, I tried an Open Heart Meditation class in Hobart, Tasmania (The Lotus Centre). As soon as I walked through the door, I felt calm and relaxed. Everyone  sat on beautifully hand crafted cushions; the lighting was perfect and people smiled when new people walked through the door to sit down.
I personally think that where and who you meditate with can make a big difference – use your intuition to find a class you're comfortable with.
The meditation mindset
Once you've found a meditation class  that you like, I think it's important to let go of all your preconceived ideas about what meditation is or how it should be done.
The ability to meditate is not something to be learned – we have to recognize that we have the ability already. Approaching meditation as if it's a new skill to be mastered with instructions, rules and practice may not be the best way forwards.
When you've read a lot about meditation and how you should be feeling… you might be too focused on the outcome of meditation rather than the process and being in the present moment.
If you're interested in the meditation mind set, one of the best books I've read on the subject is Zen Mind, Beginner's Mind by Shunryu Suzuki.
With a beginner's mind approach to meditation, it's possible to understand what meditation is all about from the first session.
The guided approach
Similar to religion, there are many meditative practices out there with their own sets of rules to follow. The end result may be the same, but the journey there doesn't have to be. I think it's important to keep an open mind and not become brainwashed into thinking that there is only one way to meditate or you can only meditate in the crossed legged position.
Just because a certain breathing exercise or mantra worked for one person doesn't mean it will work for you. Treating the rules that sometimes surround meditative practices as guides rather than set rules is incredibly important.
If you have anything you'd like to add or any books you'd recommend, please leave a comment below.