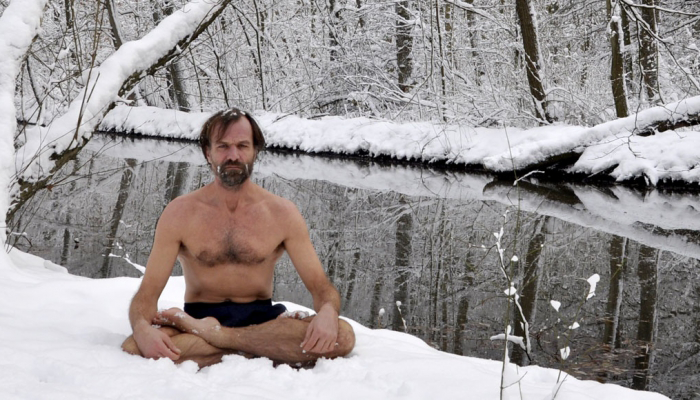 Over time, we, as humans have developed a different attitude towards nature around us and we actually forgot one thing, 'inner power. — Wim Hof
I've been fascinated by kundalini energy and inner fire meditation practices for the last six years and would like to share five energising meditations I have tried personally and/or studied.
Most of us, including myself, are initially drawn to inner fire and heat meditation practices because we see practitioners generating huge amounts of heat and it looks cool. In reality, however, many of these practices are incredibly deep meditation techniques and should be practised responsibly with a teacher or by someone who knows what they're doing.
I realise this is such a vast subject and I'm only scratching the surface here, but at the very least, I hope to give you a bit more insight into a variety of inner fire meditation techniques and exercises that I've come across over the years.
I've found a video for some of the pranayama exercises. However, for the other practices, you would be better off finding a teacher local to you or doing a course with a clear structure. This way you'll be fully supported and will always have someone to ask questions and guide you appropriately.
1. Pranayama heat generating breathing exercises
For those of you familiar with yoga, you will know that pranayama basically means extending the life force, and there are a multitude of pranayama exercises you can do for different purposes. In this article, however, I'm going to focus on the exercises that are related to inner fire, generating heat and kundalini energy.
kapalbhati and breath of fire
Although breath of fire pranayama looks very similar to kapalbhati, please note that many people consider them to be two different practices. However, both exercises build heat in the body, help to get rid of toxins and make you feel more energised. You'll also see many practitioners online referring to them as the same thing; for example in the video below.
kapalbhati is the  technique I have the most experience with in terms of years of practise and was introduced to it whilst learning Yoga at a Sivananda Ashram in Tamil Nadu in south east India. I used to practise kapalbhati breathing along with Analhoma Vilhoma (alternate nostril breathing) for approximately 15-20 minutes before my asana practice.
From personal experience I love kapalbhati. However, the pranayama teacher on my meditation teacher training mentioned that there were more subtle and gentle practices that were equally as effective such as Spinal breathing (which I will also discus).
I was introduced to spinal breathing a few years ago on my meditation teacher training and have only practised it consistently for about six months which I feel isn't quite long enough to give you first hand experience. However, I will say that it's a very subtle breathing exercise for experienced practitioners.
If you want to know more, I've been recommended Spinal Breathing by Yogani.
2. Kundalini Yoga
Although, there are many different meditation exercises designed to awaken your kundalini energy, kundalini yoga is probably the most obvious one. I've been to such vastly different kundalini classes over the years, but loved all of them. I always feel fully recharged at the end.
Your best bet is to find a fully qualified kundalini yoga teacher and realise that this isn't just another physical yoga class. Awakening your kundalini energy is a powerful process that shouldn't be taken lightly. With the right teacher though, kundalini yoga is definitely worth trying.
3. Open Heart Meditation
I definitely haven't written enough about my experiences of Open Heart Meditation, but I will say that when I was introduced to this practice, it completely transformed my worldview and gave me such a huge boost in energy. Letting go, forgiveness, opening the heart and awakening kundalini energy lie at the heart of this practice.
I was first introduced to it in the Lotus Centre in Hobart Tasmania and thought the teacher there was excellent. There are, however, Open heart classes taught all over the world, and online guided meditations you can do. You can find out more about Open Heart Meditation here.
4. Reiki Tummo
Reiki Tummo is basically a practice that combines, as the name suggests, the energies of Reiki and Tummo.  In a nutshell, Reiki helps you to channel universal energy and Tummo is Tibetan for Inner fire.
Padmacahaya, the institute for inner study offer one and two day Reiki Tummo courses, which I tried a few years ago, and admit to being too much in my head at the time. The session began with an Open Heart Meditation which I loved. However, I think I needed longer with the Reiki Tummo. If you're interested, you can read about my experience of the Reiki Tummo course here.
5. Wim Hof Method
This section of the article contains affiliate links. This means that if you buy the Wim Hof Method course via my site, I will make a commission, which will go towards doing future yoga teacher trainings.
This is the method I currently practice and have done so for almost a year now. It's basically a powerful inner heat and power generating exercise that mixes physical fitness, cold therapy, breathing exercises and meditation.
If you're unfamiliar, with the Wim Hof Method, some people compare it to Tummo (but they're two different practices) as there's also the potential of generating huge amounts of heat.
Wim Hof, who developed the method is able to run marathons barefoot across snow, wearing nothing but shorts as well as immersing his whole body in ice for extended periods of time — to name just a few things. While this is pretty extreme, the potential to be able to withstand freezing temperatures is available to us all.
Here's a short video I made where I demonstrate the Wim Hof power breath.
The Wim Hof Method was basically one of the first inner heat meditations to bring the practice to science where it was discovered that it's entirely possible to gain control over your autonomic nervous system  — something that was previously thought to be impossibly.
For more information you can check out the 10 week online Wim Hof course here
Finally, remember to stay safe with any meditation practice you choose to try and always go with your gut. If something doesn't feel right, ask someone who might be able to help or try a different style of meditation. I would also like to add that one of my philosophy teachers in India used to say, treat all new information with 'pending confirmation'. 
Although meditation and the breathing exercises mentioned here may produce heat, reduce stress, help with sleep etc, try to always practice gently and with equanimity, and never force yourself.