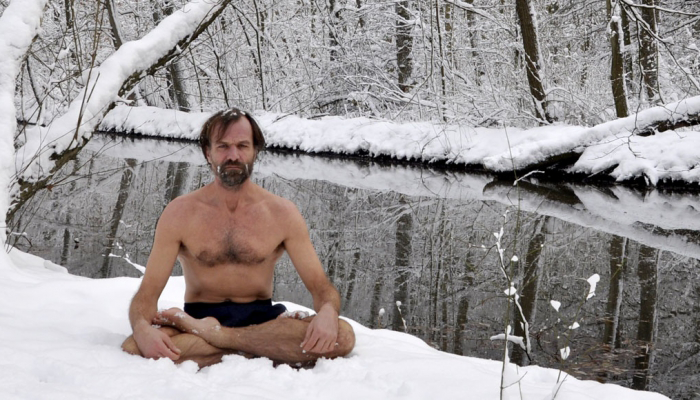 Wim Hof is known for being able to run marathons barefoot across snow and immerse his naked body in freezing temperatures for extended periods, but the Wim Hof Method also allows the practitioner to go deeper into the mind and body. It's essentially, an incredibly powerful form of meditation.
Over the last few months, I've been practising the Wim Hof Method which some people suggest is similar to the ancient Tibetan inner heat practice called Tummo. Although the Wim Hof Method involves much more than the breathing below, I wanted to share with you the main power breath exercise I've been doing every morning for two months. If you meditate after the power breath exercise, you should find yourself in quite a deeply relaxed state of meditation very quickly.
**Practising this technique is completely at your own risk and if you want to do this exercise, make sure that you do not attempt it in water, whilst driving, standing up or without consent of your doctor or medical caregiver if in doubt. This breathing technique is part of a full course which involves other exercises. Never force yourself and always listen to your body. **
1. Get comfortable
Find a comfortable place to do your breathing exercises where you won't be disturbed. You can sit or lie on your back, but do not do this exercise whilst driving or standing up. 
2. Do 30-40 power breaths
Once you're comfortable, you can start to breathe in and out 30 times. This is essentially deep breathing at a steady pace in and out through the mouth. Inhale fully but don't exhale all the way out. As you inhale you should feel your belly rise and on the exhale, you should feel your belly fall. It may feel a bit like you are hyperventilating, but you are in control. Like me, you may also feel a tingling or lightheaded sensation throughout your whole body, when you do this for the first time. This is perfectly normal.
**September 2017 update**
I understand point two might not be completely straightforward, so I created a short video (My first ever YouTube video!) below demonstrating the Wim Hof power breath.
3. Hold your breath
After doing 30-40 Wim Hof power breaths, empty your lungs of air and retain the breath for as long as you can without force. During the retention, I found it relaxing to close my eyes and focus on the space between my eyes. Just remember to set a stopwatch if you're interested in recording your results. You might want to see how you progress with the breath retentions if you plan to do this regularly over a set period of time.
4. Breathe in for 10 seconds
After the breath retention, take a deep breath in and hold it for a further 10-15 seconds, before exhaling.
5. Repeat steps 1-4
Repeat the whole process for another three rounds. Remember to record your times down, so you can track your progression.
6. Meditate after 4 rounds of power breathing
After the power breaths, you can then go into your regular practise of meditation or meditate for five minutes if you're a complete beginner by closing your eyes, bringing your awareness to your breath and focusing on the space between your eyes.
Over time, you can gradually increase the amount of time you spend in meditation after the power breaths, but five minutes is sufficient for a beginner.
As with any new meditation or breathing technique, if it doesn't feel right, stop doing it and trust your intuition. If you found the power breath exercise useful, I'll be posting up more articles about the Wim Hof Method over the next few months.
Finally, I'm a Wim Hof Method affiliate. This means that if you buy the Wim Hof course through my site I will make a commission which will go towards further yoga teacher trainings.
You can read my article written after I finished the course here Wim Hof Method: review by a yoga teacher
or you can check out Wim Hof's transformative course here
***September 2017 update***
Or, check out Wim Hof's new course here: Wim Hof Method Fundamentals Video Course