Teaching gives me the chance to express my love for life and to share my love for yoga and all the benefits yoga has to offer with others. — Esther Ekhart
I was introduced to Ekhart Yoga by a friend during my 300 hour yoga teacher training and I remember saying, 'This is exactly what I've been looking for.' — something that will bring more creativity, knowledge and depth to my personal yoga practice and inspire my teaching.
Ekhart Yoga in a nutshell
Ekhart Yoga provides hundreds of yoga videos, talks, programmes, courses, tips, food recipes and resources — created by some of the world's leading yoga teachers. Whether you're a complete beginner or you've been teaching yoga for years, there's plenty to keep you inspired here.
Why I'm using Ekhart Yoga
For years I practised mainly Sivananda and Ashtanga yoga, which I loved. However, with time, I found myself naturally wanting to incorporate more creativity and self expression into my practice.
Before I started my first yoga teacher training several years ago, I didn't want to instruct people to do the same set sequence every day. I wanted to be able to creatively tailor my yoga sessions for each individual, adapt asanas effectively for all levels, and create intelligently designed themed sessions.
This is where Ekhart Yoga comes in. There's enough inspiration here to feed any yoga teacher and practitioner for life, which is why it's such a valuable tool for anybody who loves and wants to learn more about this ancient practice.
Many of the videos on Ekhart Yoga feature the teacher and also a student, which is useful, as you can see how the teacher is responding to the the student on a 1-1 basis, and where and how enhancements and adjustments are made.
I teach people predominantly 1-1, so the delivery of the videos is perfect to help me develop my own teaching in this way and I'm confident it will do the same for you — whether you teach classes or individuals.
Using Ekhart Yoga is also a chance for me to practice different styles of yoga I'm not as familiar with practising on such a long term basis, without having to physically go and do a class at a studio each day.
Ekhart Yoga in more detail
From what I've experienced, there isn't really anything else like this online, that's organised in such an intuitive way, whilst also providing quality and creative teaching, from multiple traditions, that you can trust.
When it comes to yoga practices, you can learn over 15 different styles of yoga, choose the purpose of your practice, select a specific teacher, pick a theme, and choose how long you want to practise for. Or, if you don't know where to start at all, you can click the 'Surprise me' tab, or choose a specific course.
There are currently over 2,000 videos and talks — and more get added each week, so you're never short of inspiration and new yoga practices to try.
In addition to all of the videos and programmes, you also have access to hundreds of talks covering all sorts from applied yoga anatomy to the eight limbs of yoga, mindfulness and more. And if you want to learn meditation and yoga nidra  there are also some brilliant programmes and videos on this too.
Incorporate more meditation into your yoga practice
One of my first teacher trainings was just in meditation and pranayama, which I'm incredibly grateful for, because traditionally, meditation played such a central role in a yoga practice. However, on many yoga teacher trainings today, meditation isn't covered in nearly as much depth as it could be.
So, if you are interested in learning meditation techniques that relate directly to the tradition of yoga, Ekhart Yoga goes into a lot of detail to help you confidently create a personal practice and incorporate meditation into your classes. 
Expand on your existing knowledge and experience
I know there are a lot of people who do yoga teacher trainings, not to teach, but to learn more about yoga. If this is you, Ekhart Yoga might be a good solution, or at least give you somewhere to start if you do want to know more.
While it won't qualify you to be able to teach, you can still learn an incredible amount with the added benefit of having so many different styles to try.
Learning yoga is an ongoing process, that shouldn't stop once a training or teacher intensive course is complete. Regularly engaging with and continuing my learning through Ekhart Yoga, will hopefully make me a better teacher in the long run.
What I'm currently learning on Ekhart Yoga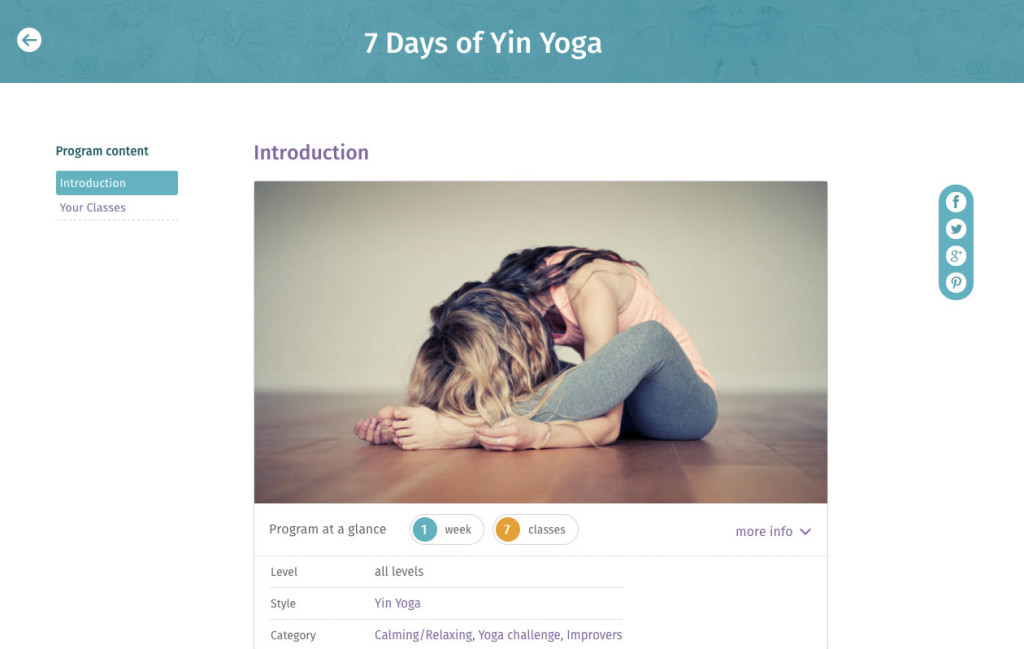 Today I started a seven day Yin Yoga course through Ekhart Yoga. Each session has a theme with a different focus. For example, in day one, the focus is the hips. If you're unfamiliar with Yin Yoga, it's a beautiful practice that involves slowing down and holding asanas for longer which helps you to access the deeper layers of connective tissue in your body, and can feel quite emotional at times.
It's not a practice I would do just on its own, but it's the perfect complement to a fast paced life or, for example, a more dynamic vinyasa flow practice.
To accompany the videos, you also get additional information to study related to the practice, which is extremely useful. For example, to go with Day one of the Yin class, there's information on the anatomy of the hip, flexibility and skeletal differences when it comes to how open your hips are, hip opening poses, and how the hips relate to our emotions.
Final thoughts
One of my teachers once said that you could take just a few lines or one concept from any of the ancient yoga texts and try to apply what you learn in your own life for the next few months, as opposed to filling your brain with more and more knowledge without doing anything with it.
I believe Ekhart Yoga has done a phenomenal job of creating talks that focus on the foundations and key concepts of yoga philosophy, which you can then reflect on and apply to your life. Similarly, each time I watch a new yoga video, I always learn something new that I can incorporate into my own practice and teaching.
The more I study yoga, the more I realise how vast this fascinating subject is, but the most important thing is to keep practising and apply what you learn in your own life.
To find out more, develop your teaching and become a better student of yoga check out many of the free resources currently available on Ekhart Yoga, or sign up for a regular Ekhart Yoga membership here. 
Finally, I received a free subscription from Ekhart Yoga which I'm incredibly grateful for, in return for writing about my experiences.