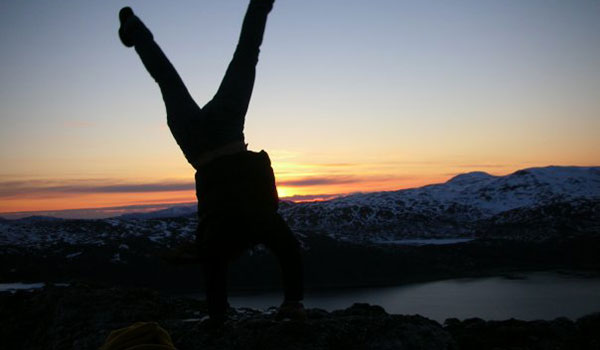 I haven't yet become a qualified yoga teacher yet. However, I have started to teach small informal yoga classes for free with some of my work colleagues, which I enjoy doing. The classes I teach are at a beginners/ intermediate  and at the moment I haven't been teaching anything I can't physically do myself. But, I have had plenty of yoga teachers who have felt comfortable doing this.
My question, therefore — Is it OK to teach yoga asanas you can't do yourself? The beauty of yoga is that it's not competitive; It's a moving meditation; and it doesn't matter how complicated your asanas are. When I start the face to face element of my yoga teacher training course with Yoga Professionals I will ask my teachers.
After doing a bit of research online, I came across this interesting point in an article written by yoga teacher James Brown in the Huffington Post:
"In every training, I am asked whether it's okay to teach things you can't do yourself. The answer is yes and no…" You can read the full article here: 7 Tips for Nervous New Yoga Teachers.
From personal experience, I've had a fair few yoga teachers who have attempted to teach asanas such as the scorpion pose without being able to do it themselves — as a result, progress was always slow. When they were supporting me, they were instructing me in the wrong way. However, one time, whilst practising yoga in the Sivananda Meenakshi Ashram in Tamil Nadu, India, I had an Austrian teacher who was quite overweight and couldn't demonstrate anything, despite the fact that she taught the advanced yoga class.
My first reaction was 'How did she end up teaching yoga full stop — let alone the advanced class?' It was a poor judgement on my behalf, especially as yoga isn't discriminatory. Plus, it should be refreshing to see people of all shapes and sizes teach — not just skinny ex dancers with firm abs and a squeaky white smile.
Anyway, this teacher taught me perhaps more than any yoga teacher ever has. She was able to tell me exactly how to get into each position with perfect precision. I was impressed. I wondered if once upon a time, she'd been able to do all of these asanas she was so easily able to guide people into.
So, going back to my own teaching practice — would I ever teach something I couldn't do? Eventually, I would love to be able to teach the majority of asanas at all levels, but I mustn't get ahead of myself. When yoga is practised properly, there shouldn't be any force. So, for now, I wouldn't teach something like the handstand which is an asana I'm working on being able to hold for longer than five seconds.
If you found this article useful, please share it and support ThoughtBrick by liking our Facebook page and subscribing to get ThoughtBrick updates.