*Please do not attempt any of the Wim Hof breathing exercises whilst in water and complete the parts of the course that lead up to the ice bath first*
For the last few months I've been doing the Wim Hof Method course which I've really loved doing and learning about. Each day I have breathing and physical exercises to do which get progressively harder throughout the course, and on top of this, I keep a workbook of my physical and mental  progress. Today I finished week eight which involved immersing my body in a freezing bath of cold water and ice, which, I have to add was a really invigorating experience — and also interesting because my body adapted to the cold pretty much straight away.
About the Wim Hof Method
Similar to Tummo, the Wim Hof Method is about inner power, meditation and being able to control your body's immune system and temperature by doing meditation, certain breathing techniques, visualisations and physical exercises. It's also been scientifically proven to influence the Autonomic Nervous System and the innate immune response, as well as being an incredibly powerful meditation technique.
My Wim Hof Method ice bath challenge
When I first took an ice bath, I only used 6kg of ice which very quickly melted. I then took another ice bath at a later date (pic below) and used 22kg of ice (12 big bags).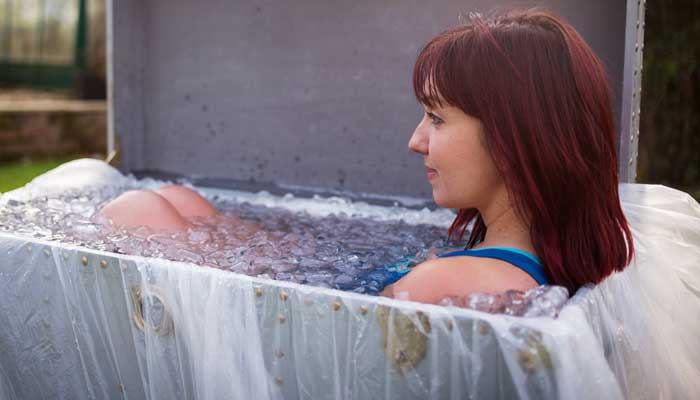 I've swam in freezing lakes before in scandinavia and rolled in snow after having saunas. However, whenever I immersed myself in really cold water in the past, it would feel like someone had stuck thousands of pins in my skin. I really felt the cold!
This time, however, was different. As I climbed into the bath of cold water and ice that I'd prepared for myself, my body felt completely prepared. I'd done the Wim Hof breathing prior to getting into the bath, so when I got into the water, I didn't really feel the cold. The whole experience of staying in the water actually felt really pleasant and refreshing. I ended up staying in for about 2:30 minutes.
Even after I climbed out of the bath, I couldn't really feel the cold until about 20 minutes later, at which point I needed to put more clothes on. It's probably the first time in the summer that I've actually wished it would snow, so I can practise walking or running barefoot in freezing temperatures to see how my body reacts.
Wim Hof Method is a powerful and deep meditation technique
The Wim Hof Method might look like it's just about being able to go into the freezing cold and control the body's autonomic nervous system and immune functions. But, the method is based on an incredibly powerful ancient tibetan inner heat meditation called Tummo.
I've practised a lot of different meditations over the last five years and the Wim Hof Method in some respects really sends you into quite a deep state of meditation very quickly. Sometimes, it can be difficult for complete beginners to physically or mentally feel the effects of meditation, but meditating after doing the Wim Hof breathing exercises always took me to quite a deeply relaxing place.
It all depends on what you're looking for though, as overall, this is a bit like a meditation fast track program that can be quite intense at times, but great if you like to push yourself. With this method, you really start to experience first hand what the body and mind is really capable of.
Finally, I'm a Wim Hof Method affiliate. This means that if you buy the Wim Hof course through my site I will make a commission which will go towards further yoga teacher trainings.
You can read my final Wim Hof Method: review by a yoga teacher here or
You can check out Wim Hof's transformative course here